To learn more about the only truly global Executive MBA program and how it fits into your career goals, join us for a Global OneMBA Open House on February 11th!
During the Open House, you will:
Step into the shoes of a Global OneMBA student by attending a class session
Learn about the program and career and leadership development opportunities
Discover how the program's global network will have you studying on four continents at leading partner business schools
Participate in discussions to enhance your learning
Meet and network with current students at lunch
Watch June's story about the GlobalOne MBA program: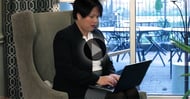 Open House Event Details
Global OneMBA is an innovative education created to develop executives who can think globally and act with local sensitivity. Unique features of the executive MBA program include four international weeklong residencies, global study teams, one-to-one leadership and career development training, and more.